Check Out These Cars From Your Favorite Halloween Movies
It's spooky season! Whether you're planning a trip to see Michigan's beautiful fall colors, visit an apple orchard, or pick out the perfect pumpkin, fall is an exciting time of year. For movie lovers, binge-watching your favorite Halloween movies is a nostalgic tradition. From horror classics such as Psycho and Halloween to family-friendly flicks like Hocus Pocus, there is no shortage of entertainment all October long!
In this blog post, we've rounded up our top Halloween movies and, because we love cars here at Car City, have listed vehicles featured throughout the films. See if you can catch some of these cars during your binge this month! Special thanks to the community members at Internet Movie Cars Database for their detective work and attention to detail!
As a side note, just because you have less-than-perfect credit doesn't mean you can't enjoy a quality, used vehicle. At Car City, we work with all credit types and can get people driving for only $39 down! We have a large inventory of newer used vehicles available in our locations from Cadillac, Michigan to South Bend, Indiana.
Without further ado, let's take a look at our favorite spooky films and the cars featured in them!
Hocus Pocus (1993)
Leading the list is none other than the millennial-beloved Hocus Pocus. This movie has everything we love about Halloween, jam-packed into 1 hour and 36 minutes: witches, parties, graveyards, fall foliage, trick-or-treating, and magic. When you're not entranced with the spooktacular set design, see if you can spot these vehicles:
1991 Ford Explorer
Get a good look at this Explorer as it rolls up to Old Burial Hill. The 1991 model was one of Ford's bigger compact SUVs at the time and came in two- and four-door models. According to an article from the November 1991 issue of Car and Driver, the Explorer succeeded the Ford Bronco, which was discontinued the summer prior.
1967 GMC TDH 5305
Equipped with an old-timey horn, the Sanderson sisters catch a ride on this bus on Halloween night. The TDH-5304 was a 40-foot transit bus made from 1963 through 1967. A little over 2,000 were built in total in the United States. The bus seated approximately 50 passengers and stood 121 inches tall.
Halloween (1978)
This is the movie that spawned the slasher genre. It is also credited as helping pivot Halloween from a child-centric holiday to a horror-filled one. Also, who can forget the theme song? Get ready to see a ton of 70s cars throughout the movie.
1973 Cadillac Coupe DeVille
This Cadillac is driven by Laurie's father, owner of Strode Realty. It is most noticeable in the Strode family driveway. The DeVille was completely redesigned in 1971, ushering in a fourth generation. This generation set a record for interior width at the time. The 1973 DeVille had a 7.7 liter CID V8 engine. A new energy-absorbing bumper was added that year.
1958 Chevy Task-Force Apache Stepside
Seen when Dr. Loomis investigates the abandoned truck near the train tracks. It also explains how Michael Myers got his iconic blue mechanic's uniform. The 1958 model saw a significant redesign of the front end. At this time, all light-duty Task Force trucks were called "Apache," medium-duty were called "Viking," and heavy-duty trucks were called "Spartan." This was also the first year for the Task Force to have factory-equipped air conditioning.
1977 BMW 320i [E21]
Dr. Loomis drives this car, noticeable when he pulls up in the cemetery and when lurking around Haddonfield. This BMW 320i had a 125 horsepower engine at 5800 rpm and had a maximum speed of 112 mph.
Beetlejuice (1988)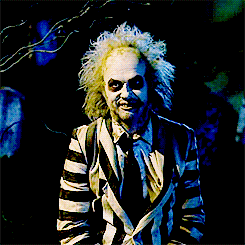 You know the soundtrack. You know what to say thrice. Maybe you've donned a Beetlejuice costume to a Halloween party many moons ago. Whatever the case may be, we still love this movie and the vehicles featured in it. This Tim Burton classic is sure to entertain.
1972 International Harvester Loadstar
This can be seen in the background, equipped with a cherry picker on top to add to the country scenery. The International Loadstar series of trucks were produced by International harvester from 1962 to 1978. It was primarily built for delivery, construction, and agriculture applications.
1987 Lincoln Continental Givenchy
Jane Butterfield's car can be spotted outside. Notice the top-of-the-line trim level. This vehicle is a rare collaboration between French fashion house Givenchy and the Lincoln Motor Company. The first collaboration occurred for the 1979 Mark V model, and it returned from 1982 to 1987. Some special features in this specific model and trim level include two-tone medium-dark mulberry metallic paint, mulberry leather interior, coach lamps, and a leather-wrapped steering wheel.
Psycho (1960)
The infamous shower scene of this groundbreaking horror film lives on in American pop culture to this day. The music, characters, and aesthetics have set a precedent in film. Released in 1960, the vehicles shown in Psycho are classic rides from the 1950s. See if you can spot these classic American cars during your watch:
1957 Chevy Bel Air Sport Sedan
With its white-wall tires and beautiful fins, the Bel Air makes a quick appearance as a background car as Marion makes a break from the city. The 1957 model year brought new changes, including a new dashboard, the relocation o fair ducts to the headlight pods, 14-inch wheels, a wider grille, and the famous tailfins. The Bel Air trim level received gold trim.
1959 Ford Custom 300
Perhaps one of the most famous movie cars ever, this is the car Marion buys from the dealer and tragically ends up in the swamp. The Ford Custom name returned from 1957-1959. The Custom 300 was designed and marketed to value-conscious consumers. The Custom 300 became the base model for 1958, but it was dropped from the lineup in 1960.
1959 Mercury Montclair
This classic is used by the private investigator, Milton Arbogast, most visible in a scene when he uses a payphone. The Montclair was the mid-range Mercury sedan offering at the time. The Montclair underwent five generations of redesigns from 1955 until 1968.
Scream (1996)
Did this movie make you terrified of prank calls too? Rewatch the original flick this year starring Drew Barrymore, Neve Campbell, and Courtney Cox. Who is really behind that mask? With multiple installments over the decades, I guess we won't find out anytime soon! See if you can catch these 80s cars in this movie:
1989 Ford Econoline E-350 Super Van
The fictional KQIS 6 news station van, and perhaps the most memorable vehicle in this movie, was a Ford. The 1989 Econoline E-350 has a 7.3L V8 diesel engine and a 22-gallon tank, enough to haul around all that news equipment! This van has a comfortable body style, powerful engine, and a large tank size. It got 14 mpg in the city and 18 mpg on the highway.
1984 Jeep Cherokee XJ
Spot this tan Jeep as the police car around town. The 1984 Jeep Cherokee "revolutionized American SUVs, according to autoevolution, due to their smaller dimensions and decreased weights. The 1984 Cherokee XJ was the first Jeep with boxed chassis integrated into a single unit rather than the traditional separate construction.
The best place to get used cars in Michigan and Indiana
While we may not have the classic cars featured in these films, we do have over 600 quality newer-used vehicles available across our locations in Michigan and Indiana. At Car City, our wide inventory makes it easier for customers to choose a newer ride. Simply check our online inventory or schedule an appointment at your nearest Car City location!
Get approved for a quality, used vehicle at Car City! Pictured: 2016 Ford Edge SEL, 2012 Ford Fusion, 2013 Chevy Camaro LS, 2913 Ford F-150, 2012 Jeep Grand Cherokee Limited.
If your credit is not perfect, or if you are simply looking for a quality used vehicle, look no further! At Car City, all vehicles come with a six month/6,000-mile warranty, GAP coverage, and a three-day money-back guarantee. Additionally, Car City offers a minimum of $1,000 for your vehicle trade. Simply bring your trade-in vehicle to any Car City location and apply the trade-in value towards your newer ride! Start your application today to drive away in a quality, used vehicle this year!
Please Note: We turn our inventory daily, please check with the dealer to confirm vehicle availability, verify price, options, and other vehicle details.